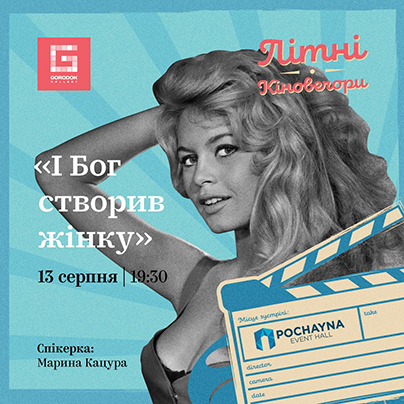 We continue to entertain all movie lovers with a new format of leisure.
We invite you to an atmospheric movie night and viewing of "And God Created Woman" (1956) on the big screen!
We are preparing for you:
A unique speaker's commentary on the making of the film, the characters, music, costumes, directors, awards, and more;
A bar with cocktails;
Viewing of the film in the company of the same film lovers;
Screening date:

August 13, beginning at 7:30 p.m.
The bar will be open from 6:30 p.m.
Participation by preliminary registration!

Movie plot:
Juliette, a young seductress, works in a newspaper shop and has a well-deserved reputation as a lecherous girl. Juliette loves the sea, the sun, the hot sand, music, food and men. Just by her immodest appearance, this sorceress, a former orphanage girl, provokes the men of the town to frivolous thoughts and reckless deeds. So when she faces the real threat of returning to the hated orphanage, her rich suitor, Eric, comes up with the cynical idea of immediately marrying Juliette off so that he can continue to enjoy her goodwill. This idea requires a man who would give up his freedom to keep a girl with a "troubled reputation" free. Such a "madman" would be Michel – a guy who is honest and secretly in love with the charming "princess" of the town. That's just when the shocking wedding will take place? It remains to be seen which of all her men will choose the unpredictable heroine.
And where these intertwined relationships will lead…
Application for participation in the screening of the film "And God created a woman"
[contact-form-7 404 "Not Found"]
Starring Brigitte Bardot, Roger Vadim.
We invite all supporters of French cinema and Brigitte Bardot to watch. We are sure that you will love it!
This film has an age restriction of 16+.