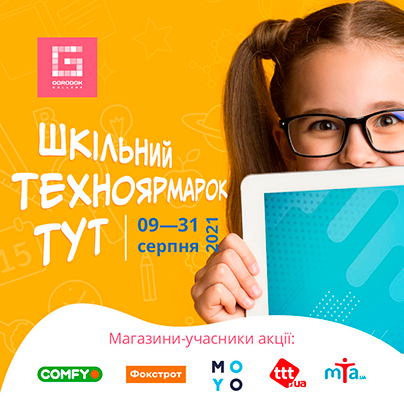 Get ready for face-to-face or distance learning now.
Get discounts on school gadgets from Comfy, MTA, MOYO, Foxtrot and TTT.ua!
From August 9 to August 31, look for stickers "School Techno Fair" in the shopping center, shop, register receipts and participate in the super prize drawing!
The number of checks for participation in the promotion is not limited!
To take part in the drawing, you must:
Make a purchase in one of the participating stores: Comfy, MTA, MOYO, Foxtrot or TTT.ua.
Scan the QR code at the store checkout.
Fill in the registration form.
Wait for the results of the drawing on September 1st. The name of the winner will be announced on our social media pages.
В акции участвуют чеки с датой покупки с 9 по 31 августа 2021 года. Обязательно сохраняйте чеки, подтверждающие покупку, до конца акции.
Адрес: пр-т Степана Бандеры, 23, метро Почайна
GORODOK Gallery – техника живет здесь!