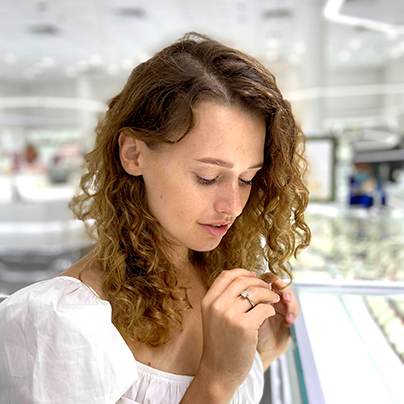 The new heroes of Love Stories in the Jewelry Quarter of the GORODOK gallery shopping center are the acting family Valentina and Konstantin Voitenko. They told their touching and funny story.
How Konstantin made an offer
Oh that was very cute and fun at the same time. I partially suspected, of course. It was on vacation. But it was unusual that Kostik chose a hotel for an uncharacteristically long time, then upon arrival, the room was generally very scrupulous, usually everything happens faster and easier.
But! He managed to pacify my vigilance, because by the end of the vacation I had already forgotten about everything and just enjoyed the trip, but I still hadn't received an offer (Valentina laughs).
And almost before leaving, it happened! It was beautiful, romantic, and really unexpected. The most touching was the photo album that Kostik made. There were collected all our photos from the beginning of the relationship, each was pasted in, and was accompanied by a story. It was sweet, I cried and was moved to the depths of my soul. And of course, she said: "YES!"
About the wedding rings of Valentina and Constantine
We have very minimalistic rings. We, like many others, probably planned to wear them every day, with any image, so we chose very versatile ones. By the way, we really wear them every day. Despite the fact that we are both actors, and we change rings on the set (we don't take off with our own), we still wear them. This is important for both of us. And this is the only piece of jewelry that I wear every day.
About daughter and her love for jewelry
Our daughter's name is Emilia. She is 4.5 years old.
Emilka, of course, loves decoration (Valentina smiles). In this she is not very much like me. She has a lot of different trinkets, of course, for the time being for children, because she is still small, and it is too early to buy expensive jewelry. But I would like her to put together her jewelry collection. To your taste, style and history. It's always so interesting when, after a while, you take a ring or earrings and remember how and when it appeared.
About Valentina's jewelry preferences
I love everything minimalistic. My jewelry is exclusively white gold, I do not wear any other metal colors.
White gold is visually "light" and versatile, in my opinion.
About the attitude to jewelry
My personal collection is very small. And somehow in our family it is not very customary to preserve and pass on something from generation to generation. But I must say that those jewelry that I have are all iconic, and each has its own story.
And with age, I began to make the purchase of jewelry even more meaningful. Today it is not easy to go out and buy something that will get bored or forgotten after the season.
Kostya and I are people of impressions and emotions. And often choosing between material and non-material, we give preference to non-material: travel, for example.
But if this is a purchase of a ring or a pendant, then some reason or prehistory is often associated with it.
And I think this is great. After all, sometimes less is more (Valentina smiles).