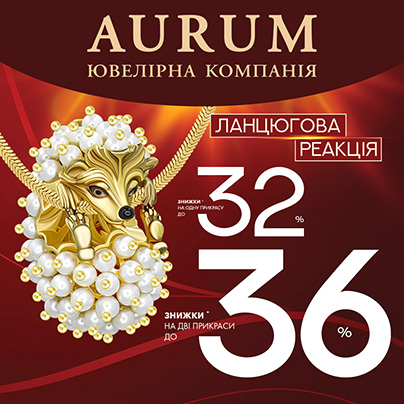 Beauty, reliability and conciseness are a chain sequence that evokes a real resonance of emotions.
The "Chain Reaction" action * at the start from the last hours of summer.
From August 31 to September 26 – the time of September promotional surprises from AURUM.
Don't even say if you love autumn … After all, there are dozens of reasons to adore it, no less than summer!
Autumn with AURUM prepares for you discounts on promotional categories of gold and silver jewelry. In particular, with inlays of precious stones.
Conditions? Buying one unit of gold or silver jewelry from promotional categories guarantees a 23% discount + client's discount, purchases from two units – 26% + client's discount.
The rest of the gold and silver jewelry will have a 22% discount + a client's discount.
And for silver jewelry "Silver Exclusive" – ​​10% + client's discount.
And that is not all!
Discount for silver chains from 10 g – 40% + customer discount.
On icons, amulets and children's gifts – 10% + client's discount.
In addition, the promotional offer at reduced prices for gold remains –
1499/1599/1699 UAH / g and for silver.
Attractive, isn't it?
Please note that the promotional categories of gold jewelry include chains, bracelets, pendants, crosses, amulets, pins, hairpins and necklaces.
Gold and silver jewelry is not combined in one check.
Brighten up your autumn mood with AURUM!
* AURUM may, at its sole discretion, make adjustments and changes to the conditions of the promotion