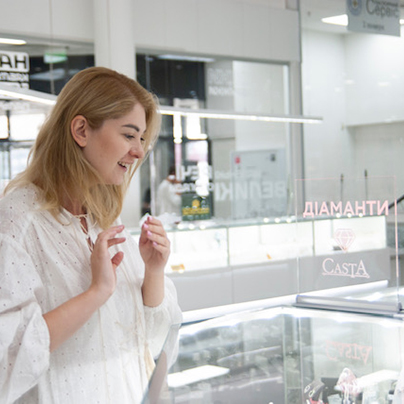 Each great event in life is not without jewelry: birthdays, engagement, wedding, etc.
A classic jewelry product is an indispensable part of a female wardrobe. And rings, earrings, pendants, bracelets we collect in personal collections, each of which has its own history, legend and emotions.
7 stories that tell from the first person are waiting for you, with their funny and touching moments. All our heroes are so different, and they will not probably leave you indifferent!
Bloger Vita Bulan and Max Durds have shaken in love.
https://youtu.be/w6C3_k8bhM4
On preferences in the choice of jewelry
Vita Bulan: I prefer only classic jewelry. In particular, gold. To costume jewelry is normal, but we do not buy for myself. I believe that classical jewelry is still a contribution to style, image.
About stylistics jewelry race
Buying jewelry for me is always a "game in a long". I want decorations to combine with all things in the wardrobe, and among themselves. I try to choose a classic design. I love, of course, precious stones, diamonds, for example (laughs).
Although you need to say that in design I love something unusual. Every time, the showcases of jewelry shops and choose something bizarre, but we will always buy something classic (smiles).
About jewelry traditions in the family of Vita
Our max is still young, so we are only creating our traditions. Of course, I collect various jewelry, and dream that they will remain our children, and then grandchildren. This is so great when there are your own stories! And the History of Love is the paced! What can transmit a better love story of parents than jewelry? Each rings, earrings, bracelets carry memories.
About jewelry wardrobe.
In my collection more rings. Somehow get used to decorate their hands. In second place – earrings. Earlier loved bracelets, but now I pay attention to them.
In general, we have a tradition to give jewelry on large holidays: birthdays, a new year, for example.
Max: By the way, we try to choose those decorations that will complement each other and create kits. This is convenient, Viti like versatility.
About choosing a wedding ring
Vita:
Max Offer made in the summer, in June, and the wedding rings we chose classic. We both carry them every day and it was important for them to combine with everything.
Max:
By the way, we chose the wedding rings quickly, "I just trusted the taste of the vote (smiles).
History Hand and Heart of Max and Vita
Vita:
Our relations began on the TV-projection "Hearts of Three" and for 5 years we are a family (smiling).
Max:
I did not need a lot of time to understand what I want to live life with vita. She is my man. Therefore, for a year I made her offer.
Vita:
This is, by the way, there is an interesting and funny story that Max does not know! You have an exclusive material! When Max was preparing to do a suggestion, I already knew about it.
Max:
As?
Vita:
I accidentally found a wedding ring, but I decided to say that your surprise is not spoiled. But for me this moment was very touching! I, of course, told mom immediately. She advised for us, and began to experience. In general, we all have been waiting for the moment of proposal. And by the way, Mom almost spoiled a surprise! She asked to show the wedding ring to how Max handed her to me. Simply put, all knew everything, and kept as they could (laughs).
About feelings and experiences after suggestion
The first emotion is joy and excitement. And although I knew that he still felt a lot of happiness. Whoever whatever told – every girl is worried at such moments. This is one of the most memorable days of my life. And by the way, every time I look at my wedding ring, I recall this day and feelings. I really want this story to become family and passed our children along with our wedding rings.
By the way, on the fifth anniversary that will be this year, we plan to update the rings with Max. And with pleasure to see brands of the jewelry quarter of the Gorodok TC.

Thank you for promoting the Zarina and Casta Jewelry Club jewelry brand.