Summer movie nights in the GORODOK gallery shopping center
Summer movie nights in the GORODOK gallery shopping center
Summer movie nights in the GORODOK gallery shopping center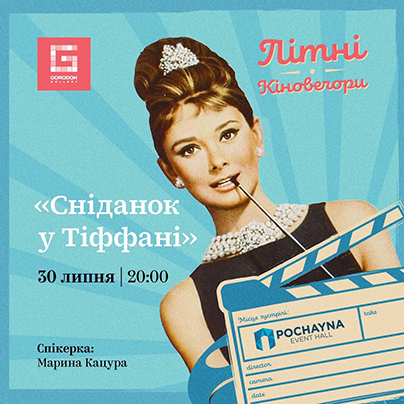 A new format of leisure for all movie lovers!
We prepare for you:
unique comments from speakers about the creation of the picture, characters, music, costumes, directors, awards and much more;
Pochayna event hall catering prepares cocktail bar;
watching a movie in the company of the same movie lovers;
new interesting acquaintances and networking;
drawing of gifts from partners for the most active viewers.
Each film is a treasure trove of interesting stories and facts. And if you start to disassemble it into details, the plot is revealed deeper and the viewing experience remains for long! Our speakers prepare unknown movie details to surprise you.
We strive to create a comfortable space in the GORODOK shopping center and Pochayna event hall, where you can get to know each other, chat in a cozy atmosphere, and just enjoy a cool evening.
We invite all movie history lovers to spend the evening with us!
07/30/2021 – Season opening! Breakfast at Tiffany's (1961, starring Audrey Hepburn, George Peppard)
During the viewing, we will analyze the outfits of the main characters, learn the story of the little black dress known to all women, the beige trench coat, which we all love so much and continue to wear today. And also let's talk about the history of the Tiffany jewelry brand.
In addition to fascinating fashion details, you will find the story of friendship between actress Audrey Hepburn and Hubert de Givenchy, the designer who created the outfits for the main character of the film.
It will be interesting!
Speaker:
Marina Katsura is an expert in the field of fashion and fashion history, a blogger.
Registration link: https://forms.gle/fnyEgmhBgYChQG48A
Time:
Beginning at 20:00. Registration for the event will open from 19:30.
We invite you to relax in the bar before the start of the event.
Price:
Participation in the movie night is free! *
* – implies participation in the advertising campaign of the shopping center GORODOK, by prior registration.
The address:
GORODOK Gallery shopping center, Ave. Stepan Bendery, 23, 3rd floor (Pochayna Event Hall)